Half of small businesses can't repay their CEBA loans, Danielle Smith negotiates climate targets with the federal government, and the amount paid by BC renters has reached a crisis level. Also, we see just how much McKinsey has affected the opioid crisis.
Download Now
Direct Download – 64 Kbit MP3 (Full Show Notes)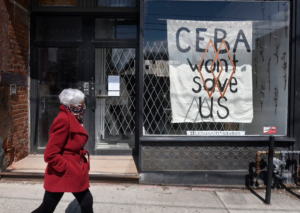 "There is near panic on the part of close to half of Canada's small businesses about the looming deadline that is approaching for CEBA loans. About 43 per cent of small businesses are telling us they just don't have the money to repay their CEBA loans and they're gonna have to take some pretty drastic action if they are required to repay them by the end of this year." – Dan Kelly, president and CEO of the Canadian Federation of Independent Business, on the looming deadline for small businesses to repay their pandemic CEBA loans.
Duration: 55:36
Hosts: Shane and Patrick