The Emergencies Act commission report has been released, the DFO is shutting down 15 BC coastal salmon farms, and an Edmonton councillor proposes a mansion tax. Also, CSIS confirms that China has interfered in our elections.
Download Now
Direct Download – 64 Kbit MP3 (Full Show Notes)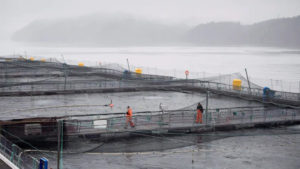 "First Nations from the coast are trying to find their feet when it comes to reclaiming what was taken away from them by the federal government…[C]oastal Nations are trying to take back their inherent rights to manage their traditional waters. This was about the sovereignty of the Laich-kwil-tach Nations and their right to decide for themselves whether salmon farming, or any other resource, is the right fit for their marine plans. Unfortunately, the decision was once again taken away from them by a government located 5,000 kilometres away." – Coalition of First Nations Finfish Stewardship spokesman Dallas Smith on the federal government's decision to not renew 15 salmon farm licenses.
Duration: 1:09:45
Hosts: Shane and Patrick