Maryam Monsef refers to the Taliban as 'our brothers', A Chinese shipyard is building Canadian ships, and BC institutes a vaccine passport and mandatory masks. Also, Twitter labels a Chrystia Freeland tweet of O'Toole as being 'manipulated media'.
Download Now
Direct Download – 64 Kbit MP3 (Full Show Notes)

Duration: 53:18
Hosts: Shane and Patrick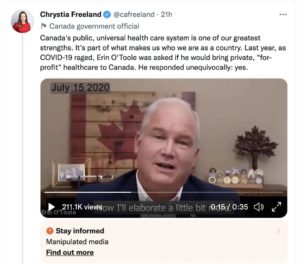 "I want to take this opportunity to speak with our brothers, the Taliban. We call on you to ensure the safe and secure passage of any individual in Afghanistan out of the country. We call on you to immediately stop the violence, the genocide, the femicide, the destruction of infrastructure, including heritage buildings" – Liberal Minister of Women and Gender Equality Maryam Monsef on the crisis in Afghanistan.