Danielle Smith takes a trip to the recent past, Canada finally replaces the army's WW2-era sidearms, and Saskatchewan asserts its economic autonomy. Also, MPs visit Taiwan while China continues to infiltrate Canadian society.
Download Now
Direct Download – 64 Kbit MP3 (Full Show Notes)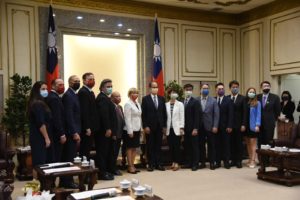 "Russia and China are not just looking at regime survival but regime expansion. They consider themselves to be at war with the West. They strive to destroy the social cohesion of liberal democracies and the credibility of our own institutions to ensure our model of government is seen as a failure." – Chief of Defence Staff, Gen. Wayne Eyre on the dangers of 21st century geopolitics.
Duration: 59:52
Hosts: Shane and Patrick