We compare the US and Canadian response to Chinese police stations, the public sector goes on strike, and Alberta's addictions treatment plan gets misconstrued. Also, Trudeau's former industry minister Navdeep Bains is hired by Rogers.
Download Now
Direct Download – 64 Kbit MP3 (Full Show Notes)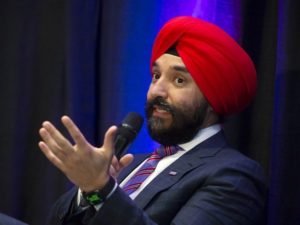 "It certainly looks like the Liberals are in the pockets of telecom giants, getting gravy jobs as their executives, instead of defending Canadians who are already paying a fortune for cell and internet bills. It's incredibly concerning when major telecom company Rogers hires not only a former Liberal cabinet minister but the architect of Canada's current telecom policy which allows telecom providers to charge some of the highest cell phone costs in the world." – NDP innovation critic Brian Masse on former industry minister Navdeep Bains joining Rogers.
Duration: 49:40
Hosts: Shane and Patrick