Danielle Smith promises to not raise taxes, the public service strike blocks key infrastructure, and Rachel Notley is silent on nuclear power. Also, the media decides that questioning immigration policy is no longer racist.
Download Now
Direct Download – 64 Kbit MP3 (Full Show Notes)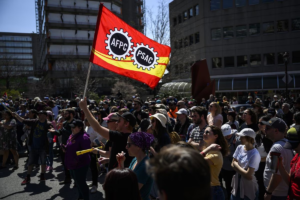 "With a steady and low corporate tax rate that I can bank on, I can plan for the future and make long-term decisions to ensure my business can keep adding to Alberta's economy, creating jobs, supporting my community, and keeping this province strong for the next generation." – Ana Zagorac, owner of Sweet Rhapsody Bakery Cafe and Patisserie on the importance of a positive investment climate.
Duration: 49:51
Hosts: Shane and Patrick