BC's dockworkers are on strike, CBC retracts the Smith email interference story, and the Liberals and opposition make headway towards a public inquiry. Also, we look at the possible expansion of medical assistance in dying.
Download Now
Direct Download – 64 Kbit MP3 (Full Show Notes)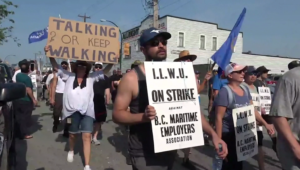 "Since the Liberals finally stopped fighting a public inquiry close to a month ago, we have been engaged with all parties multiple times a week to agree on terms for a public inquiry. Conservatives are ready to accept the latest proposal for terms of reference that was discussed, but neither Dominic LeBlanc nor his office picked up the phone or answered an e-mail in the five days following the last meeting. The Prime Minister should stop his baseless attacks and get his minister to answer our calls." – Conservative Leader Pierre Poilievre on the previous lack of agreement on the public inquiry into foreign interference.
Duration: 52:09
Hosts: Shane and Patrick