The UCP April convention expands voting options, the BC government sprays herbicides on BC forests, and Canada's oil export capacity is severely limited. Also, Jagmeet Singh will support Trudeau's government until 2025 in return for dental and pharmacare.
Download Now
Direct Download – 64 Kbit MP3 (Full Show Notes)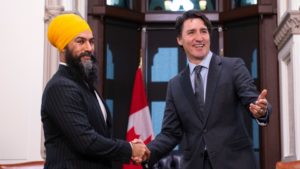 "The Bloc will keep doing exactly the same thing: if it's good for Quebec, we will vote in favour. If it's bad for Quebec, we will vote against." – Bloc Québécois Leader Yves-François Blanchet on his party's attitude towards government policy.
Duration: 1:01:22
Hosts: Shane and Patrick