The BC Supreme Court lifts the injunction on Fairy Creek protestors, the Two Michaels return to Canada, and the BC government misleads us on hospital stats. Also, Trudeau spends the first National Day of Truth and Reconciliation at the beach in Tofino.
Download Now
Direct Download – 64 Kbit MP3 (Full Show Notes)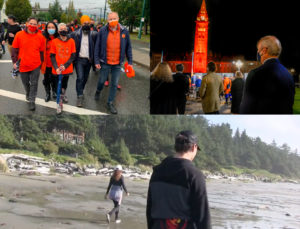 "So now Justin is saying he made a few calls on his way to the beach. Can you imagine any Prime Minister sending out a tweet to explain that he spent Remembrance Day at the beach but called some veterans on his way? This wasn't meant to be a day off Justin." – NDP MP Charlie Angus on Justin Trudeau's trip to the beach.
Duration: 1:02:47
Hosts: Shane and Patrick