We discuss the findings of David Johnston's report on Chinese influence, two more possible secret Chinese police stations are uncovered in Quebec, and we look at the Alberta NDP's equity platform. Also, the village of Lytton BC has yet to be rebuilt.
Download Now
Direct Download – 64 Kbit MP3 (Full Show Notes)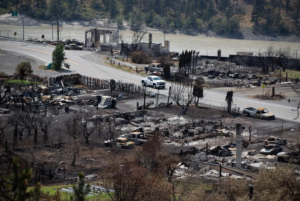 "If these organizations have a connection to the Chinese government, getting funding in Canada legitimizes the group, it provides it more of a foothold, it can obviously strengthen it and … give it more opportunities for influencing people. I wouldn't be surprised if there are more organizations that might have connections to UFWD (United Front Work Department) or the Chinese government that are receiving [Canadian] government funds." – Dennis Molinaro, an expert on Chinese foreign interference and former national security analyst on the two Quebec organizations named as possible Chinese police stations by the RCMP.
Duration: 57:30
Hosts: Shane and Patrick