Monday's federal election doesn't produce much change in party standings, calls for party leaders to be changed should be weighed carefully, and criticism of CBC's Rosemary Barton may not be just misogyny. Also, Alberta changed its Health Minister.
Download Now
Direct Download – 64 Kbit MP3 (Full Show Notes)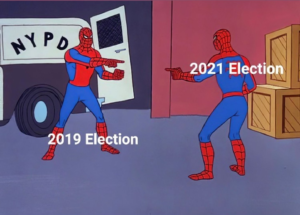 "Five weeks ago, Mr. Trudeau asked for a majority. He said the minority parliament was 'unworkable.' But tonight Canadians did not give Mr. Trudeau the majority mandate he wanted. In fact, Canadians sent him back with another minority at the cost of $600 million and deeper divisions in our great country." – Conservative leader Erin O'Toole, in his post-election speech.
Duration: 1:11:04
Hosts: Shane and Patrick